NISSAN ELECTRIFICATION
Electrify your imagination
Nissan EVs don't just drive, they spark your imagination, and take your breath away. Innovation from Formula E to every Nissan EV.
The LEAF - our first-ever mass-produced 100% electric car.
The ARIYA - our newest EV with available e-4ORCE all-wheel-drive technology.[*] e-4ORCE cannot prevent collisions or provide enhanced traction in all conditions. Always monitor traffic and weather conditions.
The Formula E – the 100% electric racecar that redefines the meaning of speed.[*] Formula E not available for purchase.
After 75 years and over 8-billion EV miles globally, Nissan's EV lineup is ready to make your heart beat faster than ever. [*] 8 Billion Miles driven by LEAF owners globally since 2010.
All you need to do is take the wheel.
---
How they work
Simplified charging at home
Maximize the charge of your EV in the comfort of your home with two charging options - level 1 and level 2.
Home installation whether you park in a garage or outside with weatherproof technology to accommodate all climates.
EV benefits
Explore the many ways EV will enhance your life - energy efficient, less standard maintenance, and tax credit incentives, to mention a few.
Potential tax credits, rebates, and incentives
Depending on your personal tax situation, you may qualify for potential Federal tax incentives up to $7,500 with the purchase of a new Nissan LEAF.
Depending on where you live, you may also qualify for other potential state and city tax incentives for driving fully electric.
---
Nissan electric vehicles - built to thrill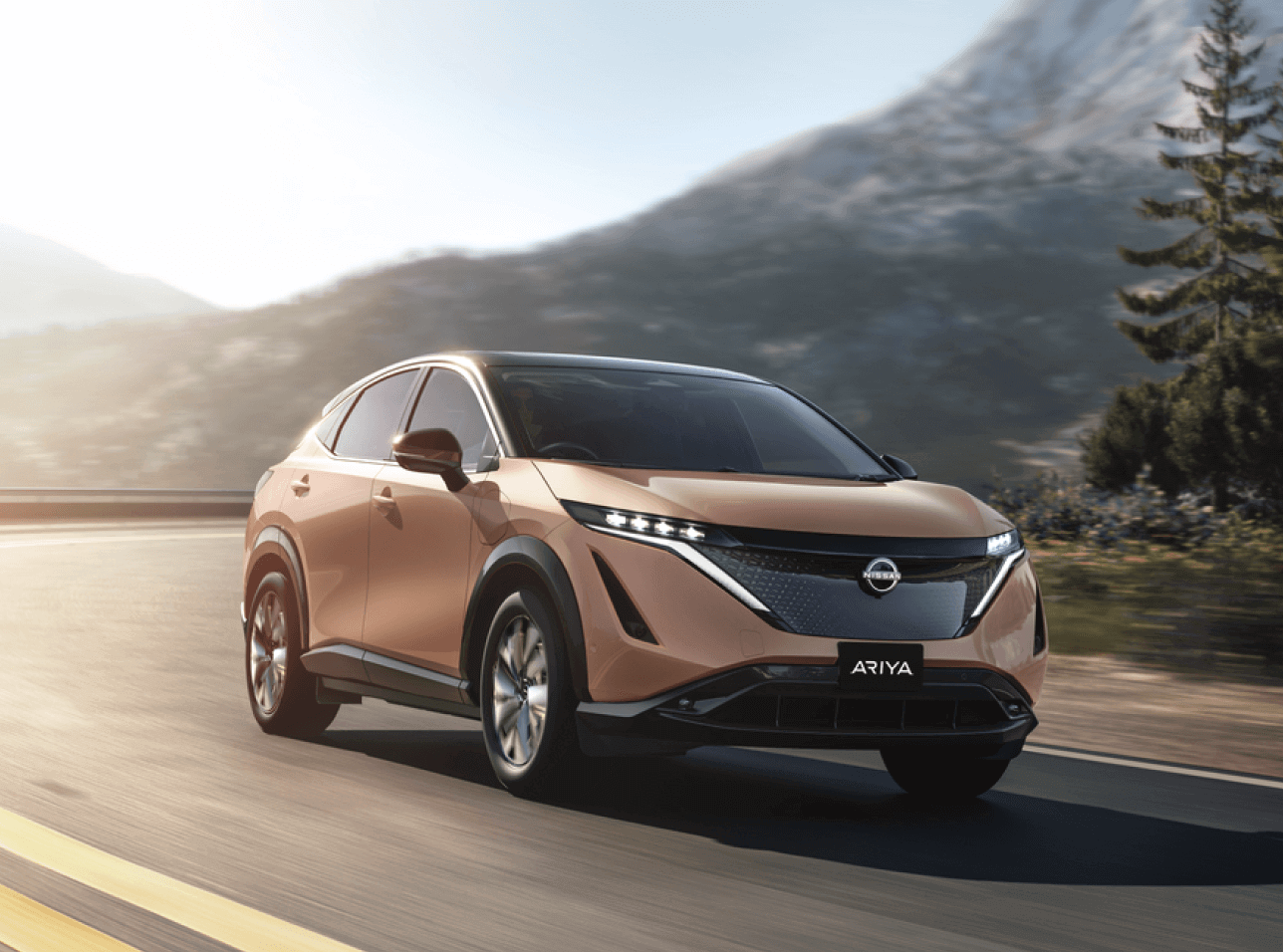 Nissan ARIYA
With the performance of a sports car, the versatility of an SUV, and the break- through technology of e-4ORCE all-wheel-drive, the Nissan ARIYA is more than an EV, it's truly a force of wonder.
Range
304 miles
EPA estimated range for ARIYA VENTURE+
Battery Size
63 kWh
and available 87 kWh options
Nissan LEAF
Discover the instant acceleration, incredible range, and nimble handling of the all-electric Nissan LEAF – the world's first mass-produced 100% electric car.
Range
212 miles
EPA estimated range for LEAF S PLUS
Battery Size
40 kWh
and available 60 kWh options
---
The benefits of driving electric
There's so much more to going 100% electric than just tailpipe emission-free driving. When you think about the performance, quietness, reduced maintenance and the various possible incentives, the benefits potentially stack up.
Going 100% electric adds up
Owning a Nissan electric vehicle offers a number of Electric Vehicle Benefits that extend beyond a lower cost of ownership.
You'll never have to stop for gas again, so forget the pump and stop worrying about the price of gas.
You may qualify for potential Federal tax incentives for purchasing a new Nissan Leaf and depending on where you live, potential state tax incentives and more.
No gas, no tailpipe emissions
So forget gas stations and put emissions testing behind you — in the 100% electric Nissan LEAF, they're truly a thing of the past
HOV lane access
When the majority of commuters get stuck in stop-and-go traffic, your Nissan electric vehicle could potentially gain you access to HOV and Carpool lanes.
Less maintenance
Spark plugs, timing belts, oil changes – forget about them. With far fewer moving parts than conventional internal combustion engines, there's less to maintain in a Nissan electric vehicle. Even your brake pads get a break because electric vehicles use the motor to slow down, reducing wear.